GIRL 5th Annual Career Conference
March 18 @ 9:30 am

-

2:30 pm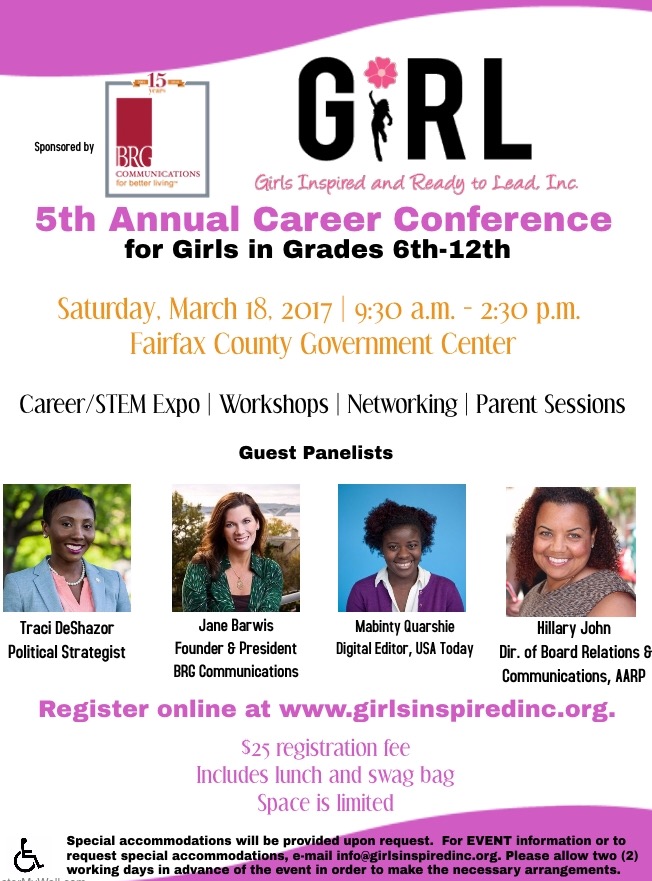 Agenda
| | |
| --- | --- |
| 9:30 – 10:00 a.m. | Registration |
| 10:00 – 10:50 a.m. | Opening Session |
| 10:50-11:00 a.m. | Transition to Workshop |
| 11:00 – 11:40 a.m. | Concurrent Workshops 1 |
| 11:40 a.m. – 12:30 p.m. | Lunch |
| 12:30 – 12:40 p.m. | Transition to Workshop |
| 12:40 – 1:20 p.m. | Concurrent Workshops 2 |
| 1:20-1:30 p.m. | Transition to Workshop |
| 1:30 – 2:10 p.m. | Concurrent Workshop 3 |
| 2:10 – 2:30 p.m. | Closing |
Concurrent Workshops: 
Career/STEM Expo (All attendees will attend.)
Girls will visit booths and meet women in a variety of careers, see demonstrations, and explore possible careers.  
(Attendees will choose two of the following to attend.)
Pitch Writing – BRG Communications
This workshop will focus on writing cover letters and personal elevator pitches. Girls will practice delivering those pitches to help prepare and improve for interviews and networking.
CIA (for 11th & 12th graders only) 
Girls will learn about CIA student programs and future careers with the Agency.
Engineering – Terita Norton, Areospace Corporation
Girls can be Rocket Scientists. All girls have the power to make a difference. By becoming an engineer or scientist, they can positively impact the world in which we live. During this session, Ms. Norton will share her story on becoming an engineer/rocket scientist and showcase the cool opportunities available through working in space. 

Cyber Security/IT – Quiana Gainey, SecureTech360
This will be a hands-on presentation on how to use industry tools that hackers and cybersecurity professionals use to break into and test computers. The session will also include a hands-on project.
Non STEM Careers in a STEM Company- HPE
Girls will learn about the many career opportunities that do not require a STEM degree to support a STEM company. Through interactive activities, the girls will meet women who work at HPE in departments such as Sales, Business Analysis, Project Management, Marketing and Communications, Law, and Human Resources. 
Service Careers – Peace Corps
This workshop will discuss careers and opportunities in service agencies like the Peace Corps.
Parent Sessions
Paths to Achieving a College Education – NVCC Pathway Connection Academic Counselor, Cynthia Delacruz
STEM Summer Programs – NVCC 

SySTEMic Solutions Representative